Fire Cider: At Home Immune Tonic
A natural remedy and preventative for colds and flu.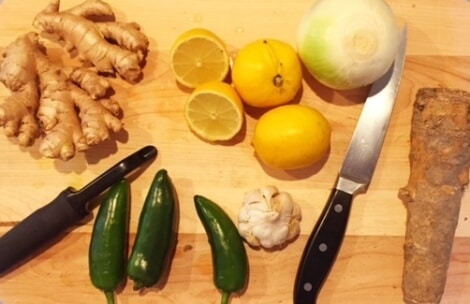 Fire Cider has a long history as a folk remedy for illness. A potent cocktail of hot aromatic herbs, this elixir works as an anti-inflammatory, anti-bacterial, and natural antibiotic with immune regulating benefits.
Benefits of Fire Cider
Strengthens immune system by stimulating white blood cells
Potent natural antibiotic properties
Stimulates circulatory and digestive functions
Strong anti-inflammatory effects
Invigorates and energizes
Diuretic, promoting sweating to help break a fever
Aids in breaking up congestion and phlegm
Clears sinus passages
How to Make Fire Cider
Add 1/2 white or yellow onion chopped, 1/4 cup horseradish peeled and chopped, 1/4 cup ginger peeled and chopped, 1/4 cup garlic peeled and chopped, 3 large jalapenos sliced, 2 lemons zested and juiced to a 1-quart mason jar.
Cover chopped ingredients with organic apple cider vinegar and seal jar.
Let steep for 4-8 weeks in a dark cabinet. The longer the better.
Drain veggies, add honey to liquid mixture to taste.
Veggies can be used for stir-fry.
How To Use Fire Cider
Take fire cider like a shot or mix 1-3 TB with tea or juice. Use daily as a preventative, or 3-4x day for treatment of colds/flus.
Apply to a cloth and place on chest for congestion.
Massage into sore muscles.
Add extra honey to use as a cough syrup.
As far as immune tonics go, fire cider contains all the heavy hitters. I love it as a refreshing wake-me-up in the morning or after a long day of work. It is spicy and will clear out your sinuses and give you a jolt of energy.
Want to try another at-home traditional healing food? Check out this Congee Recipe.
Are you in the Boulder Area? Acupuncture treats colds and flus.