There is no shortage of healthy Boulder restaurants. Boulder has a great selection of organic, locally-sourced, and allergen-friendly options. If you're on a special diet, have allergies, or are trying to eat more organic food, these are some of my favorite spots.
1. Fresh Thymes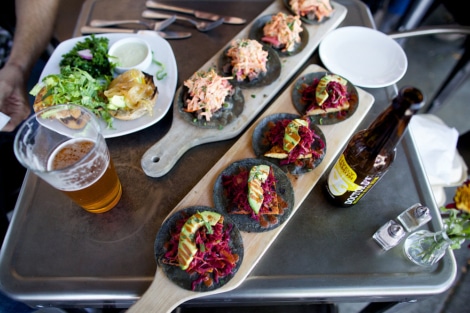 Fresh Thymes tops my list of healthy Boulder restaurants. They offer ingredient-conscious lunch, dinner, to-go options from a 100% gluten-free kitchen. The restaurant is deli counter style with plentiful indoor and outdoor seating where they bring out your food. I love the convenience of being able to pop in for a quick lunch or grab something to go that I know will be celiac-friendly. There are many paleo and vegan-friendly options as well. Fresh Thymes doesn't use GMO ingredients, sources organic and grass-fed meats, doesn't use any soybean or canola oil, and only uses local or organic ingredients. They have ingredient lists for every dish so you can be on practically any diet and find something to order that suits your needs. Their desserts are top-notch, and if you're hankering for some comfort food you have to try the mac and cheeze (vegan and GF)! They have wine, beer, cocktails, tea, and kombucha too.
2. Flower Child
Flower Child make getting veggie-heavy and thoughtfully-sourced food easy with their counter order set-up. Their  menu clearly marks allergens and they have an abundance of vegan, gluten-free, dairy-free and nut-free dishes.
3. Shine
Shine is a 100% dedicated gluten-free restaurant that prides itself on sourcing local organic ingredients. Their breakfast, lunch, happy hour, and dinner menus are marked with vegan, dairy-free and paleo-friendly options. They have amazing shine "potions" with herbal infusions and make cocktail elixirs. Try the crispy chicken confit and the sweet potato fries- you won't be disappointed. Shine also hosts events like concerts, talks, fashion shows, etc. making it a fun community gathering spot.
4. Zeal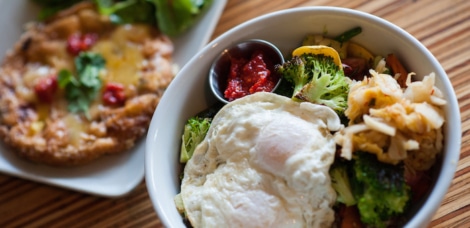 Zeal is designed around being food allergen-friendly for every meal of the day. The organic menu clearly lists which items contain nuts, nightshades, soy, eggs, dairy, or gluten. The menu is almost entirely gluten-free, with many paleo, vegan, and veggie options. This is a great place to eat if you are on an elimination diet and need to be very specific about your meals. The staff is educated and accommodating, the atmosphere is great, and they source many local products. They have kombucha, bulletproof-style coffee, smoothies, green drinks, vegan desserts, and amazing build-your-own bowls (with a cauli rice option!).
5. Bramble and Hare
Bramble and Hare sources their ingredients from the Black Cat farm which not only grows its own organic produce locally but wild forages for items in the area too. Their menu always features seasonal items (eating seasonally is so important for health), and can accommodate paleo diets, celiacs, vegetarians, etc. The ambiance is cozy, romantic, and inviting and they have a killer cocktail menu.
6. Modern Market
Modern Market offers gluten-free wraps, pizzas, and great salads with a ton of healthy options to choose from for lunch or dinner. They have wine and beer, fast deli-counter style service, and lemon for your water. I also love their dinner plates with antibiotic-free and local Red Bird chicken, sweet potato mashers, and a delicious green veggie side. Modern Market lists all ingredients and calories/fat/protein which makes it easy for those tracking macros.
7. Tangerine
Tangerine's breakfast and brunch menu offer plentiful options for vegetarians, vegans, celiacs, and others with food allergies or on therapeutic diets. They source many ingredients locally and their food is delicious. The restaurant has a full espresso bar, breakfast cocktails, and gluten-free baked goods. Try Tangerine's steak and eggs, salmon benny, and polenta and romesco!
8. Wonder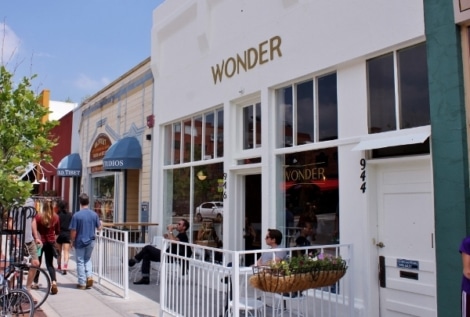 Last but not least on the healthy Boulder restaurants lineup is Wonderpress on Pearl street. This is a beverage aficionado's happy place. From coffee to cold-pressed juices and nut milk, to coffee-free hot drinks like their yam latté, there's something for everyone. They make a butter coffee with ghee that is delicious. They also make a mean avocado toast and have goodies from local fav Paleo dessert-maker Day Dream Dessert. The vibe is young and trendy, with many local entrepreneurs using it as their coffee shop office.
9. Thrive
Thrive is a newer Boulder restaurant that caters to the raw vegan crowd. Their menu is organic with tons of raw, gluten-free, soy-free, and vegan options that are boosted with ayurvedic herbs and superfoods. I love that they use sprouted nut milk which is easily digestible and offers a better nutritional profile than conventional nut milk. Sprouting nuts helps reduce phytic acid which can block the absorption of minerals. Try the Green Gaia Smoothie or the Egyptian Sunrise chia seed pudding!
10. The Organic Sandwich Company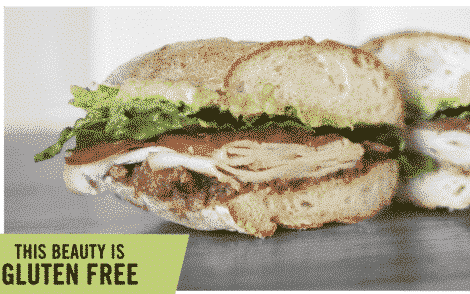 This amazing farm to table breakfast and lunch spot is right on Pearl street and conveniently only two blocks from my office. The Organic Sandwich Company is committed to organic GMO-free ingredients, sourcing locally, using compostable and recyclable materials, and offering gluten-free and vegan options. They always have great drink options and delicious desserts as well. I sometimes sneak in for a Rosebud kombucha and Paleo cookie. If you're looking for a great breakfast sandwich, try the Egg Slider on gluten-free ciabatta with avocado and spinach! Yum!