Amaluna's Favorite Holistic Beauty Tools
Published on January 17, 2022 by Rachel Muich
When we think of beauty tools, we often only think of facial beauty tools, and while a lot of what you're going to read is for your gorgeous face, the tools we use at Amaluna (and at home) are for your whole body.
So let's start with a tool that you may know:
The Crystal Face Roller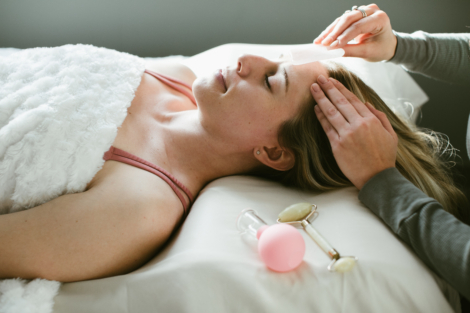 These versatile, hand-held rollers are our go-to for facial rejuvenation.  They are most often made from jade or rose quartz and are energetically cooling to the skin.  Functionally, they boost circulation and soothe irritated skin.  We like rolling upwards on the face, promoting natural circulation in a lifting motion to keep your skin glowing and taut.
Gua Sha tools
Literally translated "to scrape sand."  Gua Sha tools are often flat or scoop-shaped, made of ceramic, stone, or crystal, and are used to vigorously scrape the skin, boosting blood flow, draining lymph, and leaving you glowing.  Depending on the shape of the tool, you can scrape over your jawline, your brow lines, along your hairline, or gracefully gliding along cheekbones.  But, don't stop there.  Soothe sore forearms, acupressure tight calves, or scrape out sore feet with these full-body tools.  In session, you'll often find us scraping-out tight trapezius muscles, getting under your scapula, or scraping down your back to relieve asthmatic breathing, cough, or cold.  There really is nothing this tool can't do.
And speaking of versatile tools – enter…
Facial Cups
In practice, we often utilize glass cups on the back to soothe sore muscles, remove lactic acid build-up, and draw more fresh blood to circulate stubborn areas.  Facial cups are smaller, utilizing a suction-cup method over fire cupping, but are still used to draw toxicity up and out of the skin.  In addition, they are used to stimulate deeper tissue layers of the skin to produce collagen production.  It also feels so damn good.
The last tool we love to rave about is our…
Celluma Light
This LED device emits specific wavelengths of red and blue light which treat inflammatory and non-inflammatory acne, speeds healing, and increases cell turnover while improving blood flow.  Fun fact – this type of light therapy is utilized by NASA to help astronauts cope with pain and discomfort on long space flights. Celluma treatments can be completed in less than 20 minutes, and do not require any anesthesia or pain medication. No recovery time is required. We like putting this light over your face during facial rejuvenation sessions.  Its unique curved design allows it to be propped up over any area of the body, making it another full-body beauty tool with lasting and cumulative benefits.
Microneedling Device
While this isn't one you can safely use at home, it IS an incredible tool for promoting collagen and improving the appearance of fine lines, wrinkles, acne scarring, sun spots, and sagging skin. We get nothing but rave reviews from our microneedling clients and love this efficient modality. Microneedling sessions only need to be done once per month for 4-5 sessions for maximum results. There is no downtime, and the results speak for themselves.
We understand that your face is the first thing people see and it's important that you feel comfortable behind those eyes; but, we believe in full body love and, more than that, we believe in self-care.  These tools can be used daily. 
Work them into your morning routine.  Spend some time jade rolling your face while watching your favorite show, or have some friends over for a holistic beauty evening and take turns giving care to one another.  These tools are an extension of self-compassion.  Use them often and truly feel the love that goes beyond skin deep.
The contents of this site, including text, graphics, images, and other material are for informational purposes only. Nothing contained in this site is or should be considered or used as a substitute for professional medical or mental health advice, diagnosis, or treatment. Please schedule an appointment for personalized health advice.