Injection Therapy
Published on March 22, 2017 by Dr. Caitlin Gordon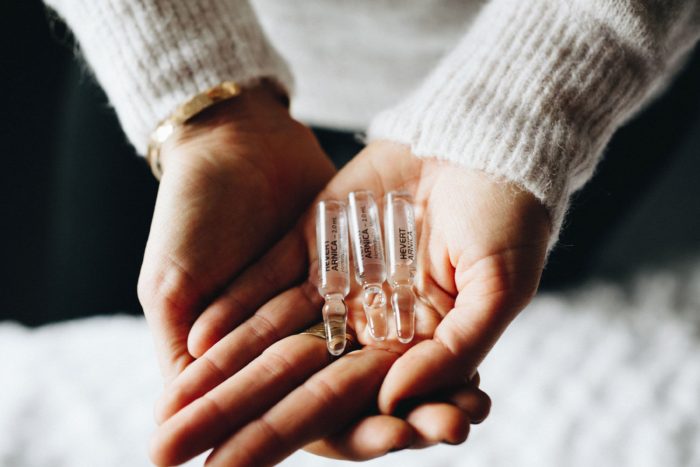 Injection Therapy, also called Biopuncture, is the injection of a substance into the skin or muscle at a trigger point or other acupuncture point for the treatment of pain, chronic conditions, or detox support. Injections may be saline, dextrose, procaine, homeopathics, or vitamins such as B12.
Injection Therapy for Pain
Injection therapy for pain is the use of procaine, dextrose, saline, homeopathic compounds or a combination of these to treat muscle trigger points, tendons, and ligaments. These compounds create a minor irritation in the tissue, which causes the body to regulate the inflammatory response. Pain can be the result of too much inflammation, which requires prompting the body to turn down the response for healing to occur (think, too much swelling after an injury). Pain can also be the result of incomplete healing, in which case we actually want to reactivate some inflammation so that the body continues to send fresh blood, collagen, and nutrients to the site of injury. I like to describe it as acupuncture on steroids (but no, we don't inject steroids). It works by a similar mechanism of action and can yield quicker results.
Learn more about how injection therapy and acupuncture both work:
How does Injection Therapy Reduce Pain?
Acupuncture and Injection Therapy for Pain
What conditions does it treat?
Muscular Pain: low back, neck, shoulders, sciatica, hips, knee, ankle, wrist
Migraines and Tension Headaches
Carpal Tunnel
Keloid Scars
Old Injuries
Rheumatoid Arthritis
Osteoarthritis
Tendonitis
Loose ligaments in the ankle, sacrum, wrists, etc.
Why should you try it?
You don't feel like you are getting results or your results are short-lived from other treatments
You want to avoid cortisone shots
You want a less expensive but effective alternative to prolotherapy
You have an old injury which never healed correctly or fully
You want to avoid surgery
You don't want to take pain killers
You don't want side effects from medication
How many injections will I need?
Most people feel relief 24-48 hours after their first session. It is common for the area to be more sore for up to 24 hours and then feel relief. For acute problems, one session may be enough. For chronic pain conditions or old injuries, you should notice improvement within 4 weekly sessions.
Injection Therapy for Detox, Anxiety, Insomnia
I offer injections of vitamin and mineral and amino acid complexes to treat a range of nutritional deficiencies and to support methylation (essential to our detox pathways). I have a number of homeopathic solutions specifically for liver support, lymph support, and anxiety/irritability/insomnia. These solutions are injected into specific acupoints that enhance the effect of the compound being injected. I recommend weekly injections as part of a comprehensive functional medicine treatment plan.
Does it Hurt?
The needles used at Amaluna for injection therapy are similar in size to an acupuncture needle. They are not the large gauge needles used for drawing blood or giving vaccinations. You may feel a momentary pinch on insertion, but most people find injection therapy to be well worth it.
Ask about adding injection therapy at your next acupuncture appointment. You can also email caitlin@AmalunaWellness.com.
The contents of this site, including text, graphics, images, and other material are for informational purposes only. Nothing contained in this site is or should be considered or used as a substitute for professional medical or mental health advice, diagnosis, or treatment. Please schedule an appointment for personalized health advice.